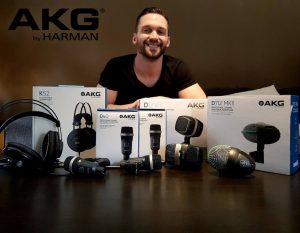 https://www.warrensdrumlessons.com/warren-van-wyk
Gear List –     
D12VR Kick
D112 Floor Tom
C1000S Overheads
D40 Snare and Toms
K52 Closed Back Headphones
Warren van Wyk has been playing drums for around 20 years and has been teaching for about 11 of those years. He has worked with some of the top artists in South Africa which some of them have received Gold, Platinum and Multi-Platinum selling status. Some of the artists that Warren has worked with include , Dewald Wasserfall, Arno Jordaan, Lianie May, JAY, EDEN, Ray Dylan, Blackie Swart, Refentse, Solly Mahlangu, Blackbird, Monique, Pieter Koen, Ampie de Preez, Anton Botha, Ryki, Mark Stent, The Plain Truth, Nic Rush, Saving Silence and many others.
Warren has performed at some of the biggest festivals in the country, backing top artists and has also played live and been heard on some of our top radio stations including, 5FM, 702, 94.7 and others. He has been seen a number times on television alongside some of South Africa's biggest artists on music videos, interviews and performances. He has also performed at some of the biggest award shows including the South African Music Awards.  He has a lot of experience in the studio and has worked with top producers and has played on an album that received a South African Music Award (SAMA) and multiple other awards. Not only has Warren played all over South Africa but has toured internationally as well.
Besides Warren's playing career, he is very busy with giving drum lessons to beginner and advanced drummers. He has taught a massive number of students over the years and has also helped drummers who play for top-selling artists to take their drumming to the next level.