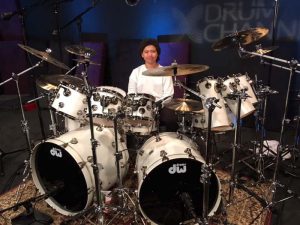 Gear List –
IVM4500 Wireless In Ear Monitor System
EC81 MD Ear Hook Microphone
WMS 470 Wireless Instrument Set
C414XLS Matched Pair – Overheads
D12VR – Kicks
C451B – Cymbals
D40 – Toms and Snare
K182 Closed Back Reference Headphones
The son of Antoinette Petersen (classical piano teacher) and Danny Petersen (drummer and percussionist), level-headed parents who have been married for 22 years, Danno came as a surprise after a prophecy and they had suffered four failed pregnancies. They knew he was a miracle.
Baby Danno preferred to sleep in the kitchen where there was noise of fridges and equipment buzzing at all times! He was just one year old, when Danny came home one day to find him playing his drums! Coming from a musical family, he initially thought it was his brother, walked inside to find Danno in diapers, dummy in mouth playing – in rhythm. Danny was astounded.
His parents allowed his talent to develop naturally. By the age of three, Danno was already a celebrity displaying his talents to presidents, diplomats, dignitaries, national and international TV stations and newspapers. And by four years old was endorsed by Yamaha and Anatolian cymbals as a professional drummer.
Schooling created a problem as Danno struggled to concentrate for longer than 10-15 minutes before tapping out rhythms on the desk. He basically did not speak until he was 6 years old. All he wanted to do was play the drums. He was later taken to a private school with fewer children. Currently, Danno is home-schooled by his mother, to accommodate for his unique schedule.
Danno comes from a stable secure home with grounded principals. When Antoinette and Danny realized Danno was gifted they made a decision to not only raise a talented and gifted drummer but someone's future father and husband as well. So when Danno was invited to play at one of the inauguration dinners of President Barack Obama when he was just 6 years old, his well-measured parents respectfully declined as it clashed with his first day of school!
Father Danny says, "He can always be invited back to perform for President Obama, but he can never repeat the first day of school!"
A tight-knit, musical and loving family, all supportive of Danno's gifts and who believe in keeping the family together as much as possible and to develop well-rounded individuals that contribute positively to society. Danno's baby sister, Robyn also into all things musical, is an integral part of his team and maintaining balance in his daily life. Whenever sufficient funds are raised then the whole family travels as a unit so that they can be part of and supportive of Danno's journey-in-training at whatever location he needs to be at.
A Family that performs works and plays together.
A SNAPSHOT OF DANNO'S CHARMED LIFE TO DATE:
1 yrs old:
Danno's starts playing drums when still in diapers.
3 yrs:
Makes his first appearance on National Television.
Former Deputy President Phumzile Mlambo-Ngcuka invites Daniel to play at her official residence in Cape Town
4 yrs:
Daniel makes history as the youngest artist to receive a full endorsement from Yamaha and Anatolian Cymbals.
Danno starts playing gigs.
5 yrs
Performs at Freedom Day Celebration for President Mbeki
Live performances at the World Trade Centre – New Orleans, USA; International Convention Centre – Children's Hospital – New Orleans, USA November – 2008
Child Welfare Annual Dinner Johannesburg, SA Speaker of the National Assembly of South Africa, Ms Baleka Mbete, International Woman's Day Celebration in Parliament.
6 yrs:
Forms the DANIEL PETERSEN III FOUNDATION making it possible at his 6th birthday at the Grand West Entertainment Centre for 200 kids from disadvantaged backgrounds and under-privileged environments to receive brand new flutes from Yamaha. They were treated to Nando's and of course a drumming solo of a life-time from Danno himself.
Performs at 90th Birthday celebrations of Nelson Mandela.
Plays at a multi-national workshop of Don Wilson – eight times kickboxing champion of the USA. He was Don's ultimate example of, "someone who believes he can do it".
Danno is invited to perform at one of the inauguration functions of President Barack Obama. This was respectfully declined!
Danno performs at New Orleans Jazz and Heritage Festival USA.
7 yrs:
7-11 yrs: Makes history when Danno appears in a SA Afrikaans text book for grade 7 learners for the next 5 years.
8 yrs:
Danno makes the line-up for the popular New Orleans jazz festival in the USA. (Close to 700,000 people).
Performs with his family in the Expresso Family contest shown on SABC 3 where Danno sang along with his sister, and also reveals an accomplished command of the jazz piano while his father plays drums this time.
Performs at Nelson Mandela's 93rd birthday in Portugal. This was also the fundraiser with former Governor of the reserve bank Tito Mboweni for the Nelson Mandela Children's hospital.
His Yamaha advertisement is voted by ADFOCUS  Financial Mail – by more than 1 million people out of 70 000 commercials – as one of the 20 most liked ads on TV.
9 yrs:
Appears live with the Cape Town Philharmonic Orchestra at the Christmas concert 2011. This concert was broadcast to over 270 Countries worldwide.
10 yrs:
Performs at the Nelson Mandela's 95th Birthday celebrations in Washington DC and UCLA Los Angeles as a special guest of His Excellency Mr. Ebrahim Rasool – SA Ambassador to the USA.
Plays live at a very prestigious UNISA Gala Dinner with the following musicians: Michael Philips – Base guitar player for Judith Sepuma, Cameron Ward – Guitar player for Hugh Masekela, Johan Mthethwa – keyboard player for Joyous Celebration.
11 yrs:
Becomes SA's youngest University Student and enrolls at the University of the Western Cape UWC.
12 yrs:
January 2015, he records his first demo album at Capital records Hollywood USA in. One of the youngest to record a demo album.
13 yrs:
Danno passes grade 8 music exams with a distinction through Trinity College London as the youngest person in South Africa and on the Continent of Africa ever to achieve it at 13.
Performs on the soundtrack of the film, Kalushi – Biopic of the Solomon Mahlangu story – with the Rashid Lanie Band. The film premiered in March, the soundtrack winning the Rapid Lion Award for the best music score.
14 yrs:
After a decade with Yamaha on 30 September 2016, Danno signed with DW Drums International to become on the youngest International Endorsed drummer. He received his first Customized signature 15 piece Collectors Series All Maple Drum kit – first of each kind for an African Artist.
Danno signed with Sabian Cymbals as an international artist as well as with Gator Drum Cases for his signature customized drum cases for his new drum kit.
Conducted 51 music / inspirational and motivational workshops in Los Angeles and San Francisco – USA
One of only two Non USA Citizens to have received the auspicious 44th President Barack Obama Lifetime Achievement Award
Attend the World Renewable Energy Expo and Mandela day celebrations in Astana- Kazakhstan
Attend the Ghanaian Presidential SKA Launch with South African Minister of Science and Technology Ms Naledi Pandor
Special International Guest and Motivational speaker and performer at the MasterCard Foundation Baobab Summit..
October invited to be a special guest, speaker and performer at the IMF Conference in Washington DC
In November, completing his LTCL – Licentiate in Music from Trinity College London (equal to a NQF LEVEL 6 by South African National Qualification standards). The youngest person with an undergraduate degree at age of 15 in SA and on the continent of Africa