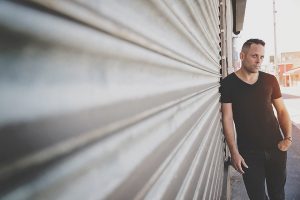 Gear List –
C7 Handheld Condenser Microphone
WMS420 V D5 Handheld Wireless Microphone System
WMS40 FLEXX Wireless Guitar System
The X factor that defines the leaders of the pack in the music industry is a combination of a great voice, performing multiple instruments, executing an energetic performance and of course being a hit songwriter. This perfectly describes multi-talented Garth Taylor.
Garth Taylor is considered a pioneer of the South African music industry, a SAMA nominated artist and is most renowned for being a chart topping singer-songwriter and recording artist. He was personally handpicked by Sir Richard Branson to entertain at his son's wedding in 2013. He's a distinguished performer who writes all music and lyrics to his original material. Garth is also a brilliant multi-instrumentalist who plays piano, keyboard, guitar and drums. His creativeness and unique style expand further into production, engineering and mixing. If you are still not impressed, Garth is a completely self-taught!
This musical legend is no newcomer to the entertainment industry, and boasts a successful career spanning two decades. South Africans first heard of Garth in 1998 when his hit single 'Why' remained on top of the radio charts for 5 consecutive weeks. It further received extensive airplay on all major South African radio stations, with the majority of fans believing that he was an international artist. 'Why' is considered one of South Africa's timeless classics.
An incredible stage presence, immaculate vocal delivery and strong songs mark Garth Taylor's performances as world-class. His robust reputation as a live performer has earned him spot light performances on large stages, with a bouquet of international stars including, Simply Red, Shaggy, Jonathan Butler, Phil Fearon, Judy Boucher and Brian McNight. Garth was also commissioned to entertain for Richard Branson's son's wedding reception at the Kruger National Park.
Garth is actively involved in the fight against the abuse of women and children.
Out of the recording studio, Garth is an avid fitness fanatic with kickboxing being his passion. In 2014, Garth took the South African Kickboxing Champion title. Garth is also a lover of the outdoors, golf and is a keen fisherman. 'The Garth Taylor Band' has performed for many large South African corporates such as MTN, Vodacom, Sanofee Aventis, The Auditor General, Nedbank, Montecasino, Sun City (to name a few) and is undoubtedly one of the leading live acts in the country.
FUN FACTS
Singer/Songwriter – 17 years
From – Durban / South Africa
Musical Styles – Soul, Pop with a hint of Funk and Reggae
Performance Style – High Energy
Albums released – Nine
Debut single – Why
Interests:
– Fishing
– Golf
– Kickboxing (SA Champ 2014)
– DIY
– Car customizing
Worked with:
– Simply Red
– Jonathan Butler
– Shaggy
– Brian Mc Night
– Richard Brandson
– Phil Fearon
– Brenda Fassie
– Yvonne Chaka Chaka
– Judy Boucher
Current projects:
– Recording the next single
– Esuba Kickboxing Gym
– Last released song "Give Me Your Love"